Dear Collectors and Friends.
We currently have a lot up our sleeve, maybe you have already noticed if you are following us on social media?
First up we have a wonderful NFT for sale on our Opensea platform ( Ebay For NFT'S)
Our NFT is a homage to Night of the living dead. Created with our Award-winning partners Jamie Romain art director magnifique! Retouched by the Laundry room and Photographed by Sam Barker, Photographer extraordinaire who has numerous works hanging in the national portrait gallery London. Shot during Lockdown at 5.30 AM on the Tottenham Marshes.
This is the first NFT Varient of many each NFT will be 1/1000 you can find #3 of this on our opensea….. we are currently minting the rest…
.
As well as this we are working with our long-standing street artist contributor Borderin who is hosting his first ongoing  NFT Collection on our portal! Cigarette Doodles Daily
Check them out they are very cool. Borderin has contributed many reimagined posters with us in the past!
https://opensea.io/collection/ciggidoodes
#nft #Opensea #Art
He also made the Indiana Jones toilet paper meme first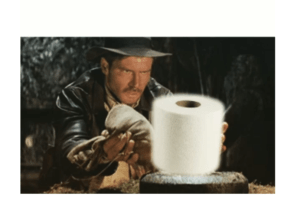 Coming soon more NFT ART! with an acclaimed movie poster artist from Germany! Very hush-hush at mo!